Sarstoon Temash
National Park


BELICE
This is the story of Elvia Bo, an indigenous woman from the Mayan people of southern Belize. She is part of the organisation SATIIM (The Sarstoon Temash Institute for Indigenous Management), which works to defend the rights of the indigenous Mayan peoples of southern Belize. For them, communication is very important, because the indigenous territories are very remote from each other and they do not have access to important information about the rights of indigenous communities. On several occasions, both governments and companies have tried to explore for hydrocarbon exploitation and other mega-projects within indigenous territory. For this reason, the aim is to install a radio with a signal powerful enough to reach all the peoples. In the Intercultural Meeting of Indigenous Communicators project, an important step was taken towards the creation of this indigenous radio station.
.
Workshop of Podcast
"My Women's Dreams" is the result of the first podcast workshop. This program is about the reality of indigenous Maya women in Belize and female empowerment.
PODCAST: Satiim women prepare to discuss prior consultation.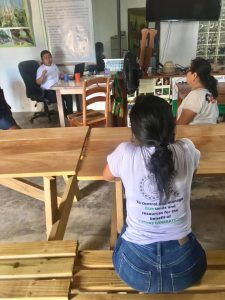 Preparation for the SATIIMIM podcast continues as women from the Toledo Mayan Cultural Council (TMCC) undergo training to prepare them to discuss topics such as Free and Informed Prior Consent and women's rights and the role of women in the commun ities. The podcast will be broadcast on Toledo Community Radio and SATIIM's social networks.
https://www.facebook.com/SATIIMBelize/photos/a.2393696797604993/2605382353103102/
PODCAST: Women learn women's rights in their own language
SATIIM is currently preparing to showcase stories from our communities that speak to rights, specifically women's rights. In their own languages, women will discuss current issues and possible ways to be included as equal stakeholders in community development. The podcasts will be shared on radio and SATIIM's social media pages.
https://www.facebook.com/SATIIMBelize/photos/a.1720167454957934/2600720763569261/
Plants for everyday use
This video talks about a plant that grows in the forests of Belize. It takes skill to use the plant, as it has barbs. One of the harvesters of the plant carefully uses her blade to remove the barbs. VINES" are important to Mayan culture, as women use them to weave baskets.
Rax Mu
Rax Mu Qiche is a community forestry enterprise located in Conejo, in the Toledo district. It is a remarkable example of how indigenous communities can sustainably harvest timber species from their community forest based on their traditional knowledge and practices. This registered community group is exporting timber, which is providing economic benefits to the community. In the video, SATIIM spoke with the chairman of Rax Mu Qiche, the tree harvester and the field supervisor. With SATIIM's support, Conejo was able to obtain a historic licence for the community to carry out logging on their land. Between 10 and 15 people work daily at Rax Mu on a rotational basis and people work in milling, directional felling and security work, as well as one person in administrative work.
Although direct income is provided to the workers' families, as the owner of his own company, Conejo is the main beneficiary of the funds generated from the logging of Nargusta, Santa Maria, Waika Yemeri and Rosewood. He provides timber for the community latrine project and the school compound fence. It also assists 3 elderly people by providing them with a small monthly livelihood.
SATIIM Communications Team Photo Gallery